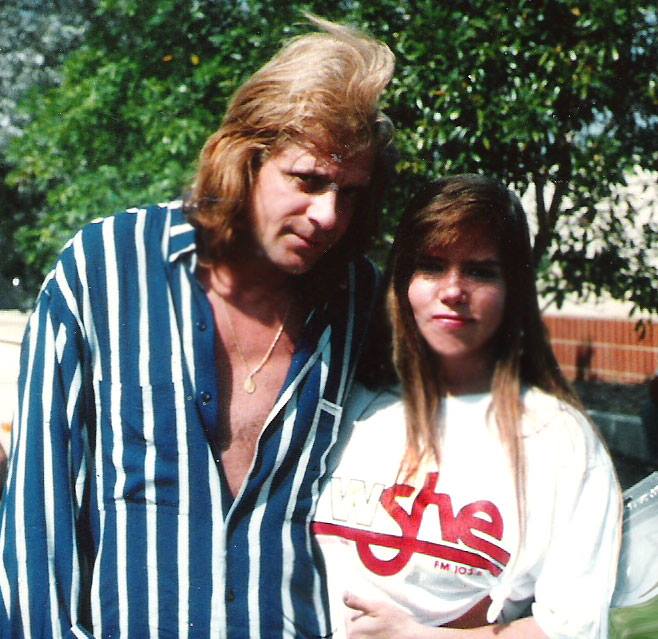 WSHE 103.5 FM Miami Radio is SHE Web Radio, Remember Liz Wild? Eddie Money? Classic Rock Radio Florida
SHE WEB RADIO | SHE FLORIDA RADIO | WSHE MIAMI FT LAUDERDALE | SHES ONLY ROCK'N ROLL RADIO
SHE Florida Radio Station History SHE Internet Radio

WSHE "The Early Days" In the beginning WSHE was the automated stepchild to WSRF 1580. Studios and transmitter were across the street from Broward Community College in Davie. The stations were in the middle of a cow pasture which later became a trailer park.

WSHE had been known as WSRF-FM prior to the station changing to WSHE around 1970. The format then was soft rock or what some called "Housewife Rock". Over on top 40 WSRF they were exparamenting at night with what DJ Tommy Judge called "Surf-a-delic". Somehow the Progressive Album Rock format made it over to the WSHE most of us old timers remember. Tommy probably had some influence in the change since his Dad Gene Milner was part owner and manager of WSRF/WSHE.

I don't think WMYQ had much influence on what was going on at WSHE. An early progressive rocker that might have had more influence is WEDR. How many people remember that station playing "Progressive Rock"? Palm Beach had WMUM playing "Progressive Rock" which they called "Mother", it's now WRMF


Since 1972.. Classic Rock Florida Is WSHE RADIO, SHE INTERNET RADIO, SHE MIAMI RADIO, WSHE MIAMI FT LAUDERDALE is Album Rock Again!
WSHE Radio, Broadcast's 60s 70s 80s & More With Deeper Album Cuts of Chicago Transit Authority, Van Halen, Floyd, James Gang, Iggy, Stones, Beatles and Soo Much More With an Audio Processing Chain Thats Guaranteed To Put BOOM in Your Room!
SHE INTERNET RADIO-WSHE Broadcast's HD Audio 96Khz+, So Go Ahead; Logon To SHE Radio Stream & Surround Your Senses To The Music That You Grew-Up With Right Here.
SHE 103 RADIO
SHE WEB RADIO
SHE MIAMI RADIO
SHE FLORIDA RADIO
SHE INTERNET RADIO
CLASSIC ROCK MIAMI RADIO

she web radio station online streaming south florida, she radio streams rock radio, class rock florida internet radio. she web radio is she radio classic rock, shes only rock'n roll radio, you may listen online to she radio right here on this page. She Web Radio | SHE Radio | Internet Radio | SHE Florida Radio | SHE Radio Florida Davie Florida WSHE 103.5FM, SHE Radio She 103 is now broadcasting directly on the internet, listen to she radio on the web Loud and Proud Rock Radio. She Radio is Miami Classic Rock Radio - Classic Rock Radio Florida. Florida Radio Rock Radio is SHE Radio Florida, Streaming SHE Web Radio Online Classic Rock Radio SHE

SHE INTERNET RADIO IS WSHE. SHE Radio Has Migrated To The Internet, Classic Rock Florida is Album Rock Again!